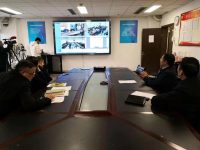 Industrial pulse under the epidemic: 5G releases technological dividends, and the prototype of digital medical care has emerged
History has consistently proven that major events often lead to technological breakthroughs.
In the face of the sudden outbreak of COVID-19, 5G, which was launched for commercial use last year, played an active role in the battle against the "epidemic".
Since the commercial use of 5G, various cases have emerged in medical care as an important application scenario. The reporter learned that the epidemic can be regarded as an important turning point for 5G technology to enter the medical industry. After this epidemic, China's medical industry has ushered in profound changes in terms of policies, trends and consumer habits, and the digitalization of the medical industry has accelerated.
5G bridges, remote consultation shines brightly
On February 4, a day worth remembering, Wuhan Huoshenshan Hospital began to admit patients. Here, the 5G base station was opened in just 2 days, which originally took 1 month. Here, it not only meets the communication needs of nearly 20,000 people, but also provides remote consultation with the support of 5G.
"You have worked hard in the front, and you must pay attention to safety! The consultation will begin next, and the doctor in charge will introduce the situation of the first patient…" At about 5 pm on February 9, the PLA General Hospital and Huoshenshan Hospital conducted the first 5G network remote consultation . Through this system, experts from Beijing provide real-time remote guidance for the treatment of critically ill patients in Huoshenshan Hospital.
In the fight against the epidemic, medical resources are so precious. In the case of limited medical staff and shortage of medical supplies, 5G technology empowers the entire medical treatment system to operate efficiently. Behind this, it means that more patients can be treated, the stressful and overloaded work of medical staff can be relieved, and the risk of infection caused by the travel of medical experts from other places can be reduced.
Not only in Huoshenshan Hospital, after the outbreak of the epidemic, 5G remote consultation was quickly applied in hospitals around the world.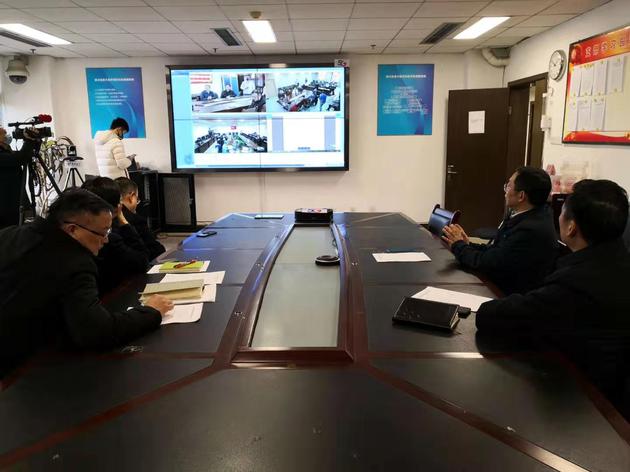 Picture: On January 26, Sichuan Provincial Health and Health Commission, West China Hospital and Chengdu Public Health Clinical Medical Center conducted a three-site remote video consultation
In Sichuan, ZTE and Sichuan Telecom, based on the 5G dual-gigabit network, helped the West China Hospital of Sichuan University and the Chengdu Public Health Clinical Medical Center to successfully complete remote consultations for two acutely ill patients with new coronary pneumonia. 27 designated hospitals in the province can observe and learn online through the consultation system.
"The general situation of the patient is like this. Experts are invited to provide guidance for the treatment of the patient…" At 13:30 on January 31, in Jiangsu, experts from the Department of Infectious Diseases of the First People's Hospital of Zhangjiagang and the Hospital of Traditional Chinese Medicine conducted the first new coronary pneumonia 5G remote consultation for suspected patient medical records.
In Zhejiang, at 15:15 on February 18th, medical experts from the Remote Ultrasound Medical Center of the Provincial People's Hospital, which is 700 kilometers away, used 5G technology to remotely control the ultrasound robot of the Fangcang shelter hospital of Wuhan Huangpi Gymnasium to conduct ultrasound examinations for patients. .
Feng Xue, president of the Tianjin Telemedicine Association, told reporters that 5G has solved the core delay problem in telemedicine very well. "In this epidemic, many critically ill patients have complicated conditions. The remote technology supported by 5G can fully mobilize the resources of multidisciplinary experts from all over the world to conduct remote consultations. While providing diagnosis and treatment plans quickly and improving the efficiency of patient treatment, it also reduces the cost of medical staff. The risk of infection also reduces the consumption of medical supplies such as protective clothing."
5G empowers, cutting-edge technology comprehensively boosts medical upgrades
Temperature measurement, medicine delivery, and answering questions… It is hard to imagine that these tasks are being done by robots instead of medical staff.
Reality often surpasses imagination. In Wuhan Union Medical College Hospital, a group of 5G cloud robots shuttled through it, undertaking remote care, temperature measurement, disinfection, cleaning and medicine delivery, which effectively improved the level of isolation and control in the ward. With the support of 5G, at present, the intelligent medical robots of many technology companies have been promoted and applied in hospitals and health service centers in Hubei, Shanghai, Shandong, Gansu, Guangxi, Henan, Jiangsu and other places, undertaking patient guidance and consultation, registered diagnosis and treatment, etc. .
5G creates value, and the greater value of 5G lies in "5G+", which empowers more cutting-edge technologies to help medical care.
In the new coronary pneumonia infection ward of the Emergency Center of the Second Hospital of Zhejiang University, the medical staff who are in charge of the patients have used the 5G VR intensive care unit remote observation and guidance system. Through this system, experts from different places can provide 360-degree all-round high-definition remote diagnosis and treatment guidance, and family members can also visit patients in the isolation area in real time.
Figure: 5G+ thermal imaging human body temperature measurement solution is applied in crowded places
Second temperature measurement, non-contact in the whole process, body temperature screening for the flow of people, China Unicom's 5G+ thermal imaging human body temperature measurement information platform, is widely used in subways, railway stations, hospitals, schools, commercial establishments and other scenarios in many places across the country. Compared with traditional handheld thermometers, 5G+ thermal imaging technology can quickly complete the temperature measurement and temperature monitoring of a large number of people, building the first line of defense for epidemic prevention and control.
Visualization of remote consultation, unmanned disinfection and body measurement… Since the outbreak of the epidemic, 5G has linked cutting-edge intelligent technology to boost the digitalization of medical care, adding confidence and confidence to the fight against the epidemic.
Meng Pu, chairman of Qualcomm China, believes that 5G can play more roles in public health management such as remote consultation, big data management, epidemic prevention robots, and infrared thermometers. More importantly, China's health and epidemic prevention network and hospital medical information level will be further improved by this epidemic prevention and control, and 5G will play an important enabling role.
"The widespread application of telemedicine and other technologies has made people realize the importance of breaking down barriers between various industries and departments and sharing information and data." Feng Xue said that digital technology provides powerful technology for the entire medical and health system. Support will also promote the improvement of the system and mechanism.
Online, Internet diagnosis and treatment consulting services are in full bloom
During the critical period of epidemic prevention and control, going out less is to make a contribution. For ordinary people, if they feel unwell at this time, going to the hospital for treatment will face the risk of cross-infection, and at the same time increase the difficulty of epidemic prevention and control.
Stay home, seek medical care at home. Under the pressure of the epidemic, the advantages of information technology have become prominent.
On February 7, the National Health Commission issued the "Notice on Doing a Good Job in Internet Diagnosis and Consultation Services in Epidemic Prevention and Control", emphasizing the role of Internet diagnosis and treatment consulting services in epidemic prevention and control. On February 18, the General Office of the Ministry of Industry and Information Technology issued a notice, proposing to use big data, 5G and other technologies to speed up virus detection and diagnosis, prevention and treatment, and improve the efficiency of anti-epidemic.
In addition, relevant departments are also actively encouraging online consultation and online medical treatment for the epidemic, giving full play to the unique advantages of Internet hospitals, encouraging the development of some common diseases, chronic diseases, and medical distribution services to reduce the risk of cross-infection of other patients offline.
The state promoted the use of information technology for epidemic prevention and control, and relevant medical institutions and platforms responded positively.
It is understood that nearly 200 public medical institutions and nearly 100 corporate Internet hospitals across the country make full use of 5G and other information technologies to link doctors and experts across the country to give full play to the advantages of online diagnosis and treatment. Alibaba Health, Tencent Health, Toutiao, etc. provide intelligent Q&A assistants for the epidemic. Beijing, Tianjin, Zhejiang and other places are also actively building online doctor consultation platforms for new coronary pneumonia to help users quickly self-assess their illness.
In extraordinary times, online anti-epidemic. On February 16, the Hunan Provincial Health and Health Commission approved 8 hospitals to set up the first batch of Internet hospitals in the province. Statistics show that by the end of November last year, nearly 300 Internet hospitals had been built in China. IDC predicts that the epidemic will drive the construction of Internet hospitals, and the "Internet +" medical model will usher in a period of rapid growth.
"Digitalization has played a special role in responding to the epidemic, and has played a role in changing people's behavior." Cai Jiangnan, founder and executive chairman of Shanghai Chuangqi Health Development Research Institute and former director of the China-Europe Center for Health Management and Policy, told reporters. With 5G, online diagnosis and treatment can realize image dissemination, which is very important. It is believed that after the epidemic, the Internet, big data, 5G and other information technologies will play a huge role in promoting the digitization of medical care and accelerating the innovation of medical business models.
Every era has its leading edge technology. Today, we are entering a new era of Internet of Everything led by 5G. At present, the use of 5G to carry out medical treatment is to implement the strategy of "scientific prevention and treatment". To further improve the efficiency and effectiveness of medical treatment, 5G is bound to release technological dividends and escort to win the battle of epidemic prevention and control.
"War Epidemic" Story Collection|Discover the Ordinary Heroes Around You and Me
in progress
1. Your name/nickname? *
2. What is your gender? *
3. During the epidemic, who is the "ordinary hero" in your heart? *
4. What things have you done that impressed you? *
5. If you want to summarize one sentence, what would you most like to say to TA? *
6. If it is convenient, please leave your contact information, we will keep it confidential for you.
The Links:   HDM3224-1-9J1F   LTM121SI-T01   IGBTMODULE