Can a ban order restrain the "dark horse" of Wuhan Hongxin?
Wuhan Hongxin is a semiconductor advanced manufacturing company with rapid development momentum in China in recent years. The official introduction pointed out that it has rich experience in FinFET advanced logic process and wafer-level advanced packaging technology at 14nm and below 7nm nodes. Such technical strength is not only in the domestic, but also the industry-leading in the world.
However, a recent news brought twists and turns to the smooth development of Wuhan Hongxin. According to Tianyancha, Wuhan Hongxin is currently involved in a lawsuit. The plaintiff is Wuhan Huanyu Foundation Engineering Co., Ltd., and the defendants are Wuhan Torch Construction Group Co., Ltd. and Wuhan Hongxin. This is a case of disputes over construction funds, involving land use. According to the ruling, the disputed amount is 41 million yuan, and the period of seizure of the land involved is three years, which is subject to the notice of assistance in enforcement.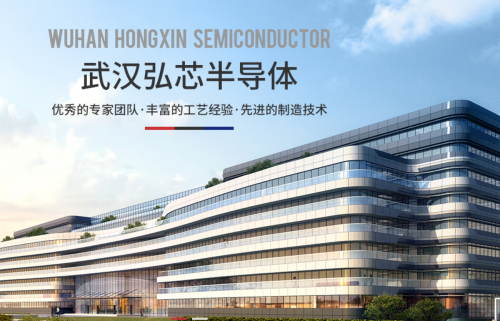 The case affected the Hongxin Semiconductor Phase II project. According to the original idea, the project is planned to complete the construction of the main plant and start the installation of production equipment in the first half of 2019, and trial production in the second half of 2019, with a designed monthly production capacity of 45,000 pieces. Now, a lawsuit fills those uncertainties.
The "dream" of the world's second largest CIDM fab
Following this case, let us have a comprehensive understanding of Wuhan Hongxin, a semiconductor manufacturing company established in November 2017, which has left you with too many incredibles in the two full years since its establishment.
Many people have a question when they first meet Wuhan Hongxin. Most of the manufacturers are determined to become the first or the industry leader at the beginning of their establishment. And Wuhan Hongxin can be called a clear stream, because it aspires to become "China's second", and the reason for this should have a lot to do with the Wuhan government.
At the beginning, Wuhan Hongxin was determined to build itself into "the second largest CIDM manufacturer in the world". In this way, the largest one is Ziguang. Tsinghua Unigroup's Yangtze River Storage plans to invest 160 billion yuan within five years, also manufacturing 12-inch wafers. This is also in line with the Wuhan government's plan to invest in a "Yangtze River Storage".
In the growth trajectory of Wuhan Hongxin, the assistance of the Wuhan Municipal Government cannot be ignored. In December 2017, Wuhan City held the second batch of major investment promotion activities. The total investment of 119 projects was 205.8 billion yuan, and the largest project was the second phase of Wuhan Hongxin Semiconductor Manufacturing Base, which invested 23.66 billion yuan. Yuan.
Judging from the news at the start of construction (September 2018), the scale of Wuhan Hongxin Phase II exceeded the scale of investment promotion at that time, reaching 76 billion yuan, becoming the largest project in Wuhan at that time. Counting the first phase of the project with an interval of less than 5 months, the first two phases of the Wuhan Hongxin Semiconductor Manufacturing Base have invested more than 100 billion yuan.
According to the original plan, after the completion of the second phase of the project, Wuhan Hongxin will be mainly engaged in the integrated circuit manufacturing and foundry business of 12-inch wafers, as well as integrated circuit production and photomask manufacturing, needle testing, packaging, testing and related services and services. consultation, etc.
Now, though, the company has reversed course. "The world's second largest CIDM fab" is like a "dream" to Wuhan Hongxin, and now it is waking up like a dream and starting to transform. Now Wuhan Hongxin is doing logic process production and advanced packaging. Its production capacity planning has also changed. From the official website of Wuhan Hongxin, which was launched in early September, it can be seen that their current goal is to build a 14nm logic process production line with a total production capacity of 30,000 pieces per month; it is expected to build a logic process production line below 7nm, with a total of The production capacity is 30,000 pieces per month; it is expected to build a wafer-level advanced packaging production line.
Jiang Shangyi, who "does not hurt TSMC"
In addition to the original "Qingqi" vision and "Golden Shining" origin, Wuhan Hongxin also has a striking place as the head of the company.
In June 2019, Jiang Shangyi, the 73-year-old co-operating officer of TSMC and who has been in charge of TSMC's research and development for many years, became the CEO of Wuhan Hongxin. Jiang Shangyi made a statement before taking office that he would never do anything to compete with or harm TSMC, his old employer.
The latest LinkedIn record on Jiang Shangyi is retirement from TSMC
However, we all know that in the past three years, Jiang Shangyi has served as the third type of independent non-executive director of SMIC, which may cause everyone's dissent. To say that the changed Wuhan Hongxin is not a competitor of TSMC, what is the explanation for SMIC, which specializes in wafer foundry? However, Jiang Shangyi's position is only an independent director, and he is not involved in SMIC's operations at all.
Jiang Shangyi is one of the most important R&D generals of TSMC founder Zhang Zhongmou, who has made great contributions to TSMC becoming the world's number one wafer foundry.
Most of Jiang Shangyi's work at TSMC is related to Moore's Law. In the more than 40 years of his tenure, Jiang Shangyi was responsible for the development of key nodes such as 0.25um, 0.18um, 0.15um, 0.13um, 90nm, 65nm, 40nm, 28nm, 20nm and even 16nm FinFET, which made TSMC stable step by step. The status of the global foundry leader.
Now, Jiang Shangyi will continue his research at the later stage of his TSMC career at Wuhan Hongxin, that is, advanced packaging.
He once said that advanced packaging will be a hot spot for global semiconductors in the future, because Moore's Law is approaching its limit, but there is still a lot of room for improvement in efficiency at the system side. Advanced packaging technology can be used to solve the problem of each chip unit on the circuit board Separate issues.
Judging from the current public information, the investors have recognized Wuhan Hongxin's diversion, and the company's project investment is still expected to be 20 billion US dollars. The joining of Jiang Shangyi will accelerate Wuhan Hongxin in terms of logic process production and advanced packaging. The industry believes that Wuhan Hongxin will become a "supernova" of Chinese semiconductors. Probably everyone believes that Jiang Shangyi can shine on platforms other than TSMC.
However, now there is this dispute over the project payment, which makes people wonder, how can a project with an investment of 100 billion yuan be stumped by less than 1% of 41 million yuan? If it cannot be handled properly, Wuhan Hongxin will become an anticlimactic "farce". Come to think of it, Jiang Shangyi would not agree.
Author: Wu Zipeng
The Links:   BSM75GB60DLC   FB180SA10