Deploying the industrial ecology, NXP i.MX helps edge applications blossom everywhere
"The processor market has undergone several generations of changes, from notebook computers, desktop computers, mobile phones, game consoles, etc. in 1999, to smartphones and cloud computing. This is the theme of the decade from 2009 to 2019. And from 2019 -Starting in 2020, we have entered a new field, characterized by a strong edge, which has high requirements for security and computing power." At the i.MX application processor media communication conference held by NXP recently , said Jin Yujie, Senior Director of Industrial and IoT Markets at NXP Greater China.
With the development of 5G technology, Internet technology and edge computing, the world's smart interconnected devices have begun to grow rapidly. It is reported that by 2025, the number of smart connected devices in the world will reach 50 billion, which will double in the next few years. This growth requires processing power at every node and edge, as well as incorporating artificial intelligence and machine learning technologies. NXP has already seen this opportunity, and it has been seen since the establishment of the Edge Processing Division last year. This is to show off its strengths in edge processing!
According to Jin Yujie's introduction, NXP has divided multiple levels for the edge technology industry, including SoC chips in the hardware part, cloud platforms for different edge applications, software services and application codes for middleware, forming a complete layout of the industrial ecology.
As a leading supplier of embedded controllers, NXP has deep roots in both the industrial and consumer electronics markets, with a broad portfolio of MCUs on 8-, 16- and 32-bit platforms, with leading low-power, Simulation, control and communication IP functions. NXP has been increasing investment in the past two years, and the industry is advancing very rapidly, from the original processing technology to the current nano-scale technology.

Comprehensive edge processing portfolio with integrated security features
i.MX brings out the old and the new
The products NXP brings to the market include: i.MX series with high market share, MPU in the field of communication, cross-border processors, cross-border devices and technologies, traditional MCUs and processors that support nodes.
NXP today announced the addition of crossover application processors to its EdgeLock™ product family, including the i.MX 8ULP, the Microsoft Azure Sphere-certified i.MX 8ULP-CS (Cloud Security) family and a new generation of high-performance intelligent application processing The i.MX 9 series of devices for industrial and IoT edge.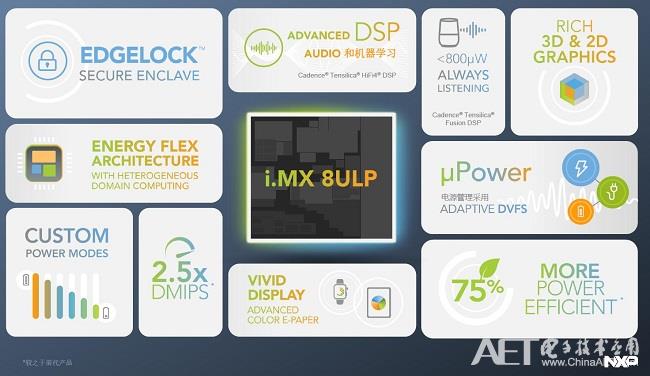 8ULP is an extension of 7ULP products, featuring ultra-low power consumption. On the edge, in addition to the consideration of computing power and power consumption, more and more attention is now paid to security; and in edge computing, power consumption has always been a pain point in the market, and it is hoped that the computing power will be stronger while reducing energy consumption. Therefore, NXP also integrates two new technologies on 8ULP: EdgeLock™ secure area and innovative Energy Flex architecture.
In addition, NXP also improves the voice processing capability by integrating DSP, so that 8ULP can support portable devices such as handheld and wearable; in addition, 8ULP also has powerful 3D and 2D image processing capabilities. The entire architecture has ultra-low power consumption and strong computing capabilities. Application chips to support security nodes such as graphics and voice.
NXP also works with third parties to enhance the technological breakthroughs of its products. Keeping edge devices long-term secure after initial deployment is a challenge that requires uninterrupted trusted management services. NXP and Microsoft have partnered to bring this capability to customers through the Azure Sphere silicon-to-cloud security in the i.MX 8ULP-CS (Cloud Security) application processor family. In addition to protected hardware, Azure Sphere includes the protected Azure Sphere operating system, cloud-based Azure Sphere security services, and a decade of continuous operating system updates and security improvements.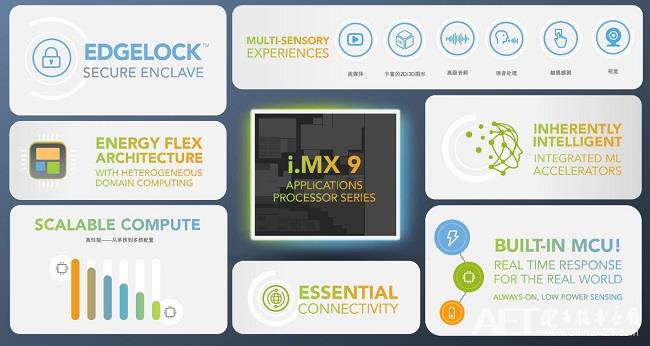 The i.MX 9 applications processor builds on the i.MX 6 and i.MX 8 series and brings advanced performance efficiency, security and scalability to the intelligent edge. It also integrates a dedicated neural processing unit (NPU) for accelerating machine learning applications. In addition, the built-in MCU can help real-time response and control the overall power consumption.
The i.MX 9 series also marks the first implementation of NXP's Arm Ethos U-65 microNPU, which makes it possible to build efficient, low-cost AI solutions in a wide range of embedded devices. The first series of the product line will be manufactured on a special low-power optimized 16/12nm FinFET process technology. The Energy Flex architecture combines heterogeneous domain processing, design skills and process technology to maximize operational efficiency.
According to Jin Yujie, many of NXP's next products are based on i.MX single-core to multi-core (such as 16-core) to support different applications.
"NXP places great emphasis on scalability. The computing power of our products ranges from primary to high-end, allowing everyone to have more choices in the application field. In terms of chip selection, we have from the relatively simple Cortex series to the A series, from Single-core to multi-core, as well as different kinds of DSPs, GPUs, etc., so scalability is a very big feature of NXP's product portfolio." Jin Yujie pointed out.
EdgeLock makes security easier
Building on NXP's extensive experience and long history of complete security solutions, the EdgeLock™ Secure Enclave, i.MX 8ULP, Azure Sphere Certified i.MX 8ULP-CS and i.MX 8ULP-CS Standard integrated features in the .MX 9 application processor enable easier security deployment for edge applications.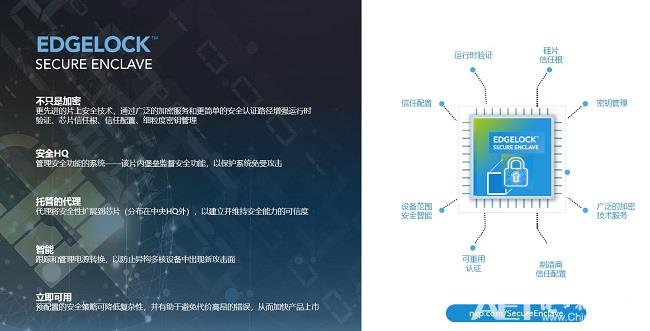 Weng Tiecheng, director of software research and development of NXP's Edge Processing Division, introduced that the EdgeLock™ Secure Enclave is a pre-configured security subsystem that simplifies the implementation of complex security encryption technologies and helps designers avoid costly mistakes. It enhances the protection of edge devices through autonomous management of key security functions such as root of trust, runtime authentication, trust settings, secure boot, key management, and cryptographic services, while also simplifying the path to industry-standard security certifications. EdgeLock™ Secure Enclave intelligently tracks power transitions while end-user applications are running, preventing new attack surfaces.
Energy Flex Architecture Provides Energy Efficient Technology
Chip-level energy optimization is becoming increasingly important when designing energy-efficient edge systems. NXP's Energy Flex architecture enables high energy efficiency, helping to extend battery life and reduce energy waste in portable or plug-in devices.
In the i.MX 8ULP and i.MX 8ULP-CS series, the Energy Flex architecture combines heterogeneous domain processing, design tricks and 28nm FD-SOI process technology to improve energy efficiency by 75% over the previous generation. Embedded in these processors is a programmable power management subsystem based on a RISC-V core built by NXP.
The subsystem can manage more than 20 different power mode configurations, providing a variety of options for diverse IoT and industrial needs. For example, it can be processed for Cortex-M, it can also be processed for Cortex-M+A core, and GPU and DSP can be added to form a unified energy management, so as to provide excellent energy efficiency – from full power to as low as 30 microwatts. With this flexible range of configurations, OEMs and developers can customize application-specific power profiles to maximize energy efficiency.
The eIQ Toolkit tool set lowers the threshold of AI landing
In addition to doing the underlying chip design and reference circuit board design, NXP also provides software support. "This approach has two purposes. First, to improve the user experience. After customers get our chips, they can develop their own products for specific application scenarios more quickly. Second, to maximize the capabilities of the chips." Weng Tiecheng explained.
Regarding the popular AI and ML, NXP understands that one of the pain points of customers is how AI and ML are implemented into products in different IoT environments. For the Internet of Things and industry, in order to quickly implement products and technologies in specific scenarios (such as object recognition, face recognition, or fault detection, etc.), NXP provides a universal, easy-to-use, and user-friendly solution A set of toolset eIQ Toolkit, and for the toolset to maximize the capabilities of the hardware.
Customers have data and want to build the models they want. With this toolset, NXP can provide many model options, which can be installed on powerful PCs and servers, and the interface it provides can do automated training. After training, the most suitable training model for NXP's MCU or MPU will be generated, downloaded to the SoC through tools and meet customer needs.
Other customers, who already have a model but do not know whether it is optimal, or do not know whether to maximize the capabilities of NXP chips, can use the tool BYOM (Bring Your Own Model), based on their original models and some of the more valuable data , the tool can train better inference models for NXP chips and platforms.
In addition to AI and ML, NXP also provides some toolsets for a wide range of industrial fields, making it easier for customers to build their own products, including support for industrial protocols in the domestic market, such as EtherCAT, IGH The entire protocol provides complete Solution; there is also CAN bus, NXP has also made a complete set of support for MPU based on CANOpen. With the growing TSN market, the industrial field is transforming to TSN, and NXP has also launched support for Over TSN such as EtherCAT, CAN, and Modbus in the industrial protocols provided.
i.MX RT still has great potential
Since NXP launched the industry's first crossover processor product i.MX RT1050 in November 2017, the i.MX RT series has achieved excellent market performance. The second-generation crossover processor product i.MX RT1170 combines excellent computing power and multimedia functions with ease of use and real-time processing, pioneering the implementation of the industry's first GHz-level microcontroller, and is the M7+M4 Dual-core MCU products, the number of DMIPS far exceeds other similar products in the MCU field.
At the same time, NXP has also developed some more application-specific processors in the field of application expansion. "For example, the i.MX RT600 integrates HiFi4's DSP to enhance audio processing; the upcoming i.MX RT500 integrates FUSION's DSP for more sensor processing, so it is more suitable for low-power applications." NXP Edge Wang Pengpeng, Director of Systems Engineering of the Processing Division, said.
In order to cooperate with these powerful products, it needs the support of powerful software, tools or ecosystems. NXP provides core software and tools, including SDK software development kit, MCU Xpresso IDE development environment and some commonly used configuration tools. In addition, NXP has also cooperated with industry partners to release and support a lot of tools and software development boards, and its ecosystem is now very rich.
Wang Pengpeng focused on NXP's progress in software empowerment, including AI machine learning, machine vision, voice and audio processing, as well as graphics, image and video processing technology, motor control, and operating systems.
"From a general perspective, the things that MCUs can do are no different from high-end processors, and the processes they use are the same. The difference is only in the tools used. MCUs need to adopt models or frameworks that are more suitable for MCUs, such as MPU. Tensorflow can be used on the MCU, but Tensorflow Lite Micro needs to be used on the MCU. It is more suitable for doing some real-time processing on the MCU. It has less computing power model and is more suitable for the input and output of the MCU and interface control. At the same time, the function of the MCU The consumption and cost are relatively low, so some AI applications that are more suitable for it can be done on the edge side." Wang Pengpeng analyzed.
In terms of audio, the i.MX RT supports multiple microphones, PDM demodulation and multiple low-mic audio inputs; RT600 integrates HiFi4 DSP processing, and has a lot of Flex interfaces and relatively high-precision timers. Can cooperate to achieve conversion. Not only audio processing, but also the function of displaying the current volume or vibration effect on the sound effector can be done with a single chip.
According to Wang Pengpeng, when voice decoding is performed on the M7 core or HiFi4 DSP, the CPU occupancy rate is only a few tenths or a few percent, which can save a lot of bandwidth for other things. In terms of speech recognition, it mainly relies on the cooperation of software. It can achieve a recognition rate of 99% in quiet conditions and 80% in noisy environments.
Video is also particularly enhanced on the i.MX RT, something rarely seen on MCUs before. "For example, MIPI's CSI and DSI are connected to MIPI's Display output, and the parallel LCD interface can support multiple colors, which can meet the support of 24-bit and 32-bit colors; multiple hardware coatings can realize mixed-layer and multi-layer effects. The original interface made on the MCU is relatively simple, but now it displays a very cool effect, which can realize functions such as 3D, sliding, and blurred background processing on mobile phones or other high-end display devices." Wang Pengpeng introduced.
In addition to consumer audio and video fields, RT also performs very well in motor control in industrial and home appliances. Because it has a lot of PWM channels and a lot of serial interfaces, it can support multi-motor control; at the same time, the real-time performance and efficiency are relatively high, and it can do faster closed-loop current loop control. From a technical point of view, this chip can already be used to replace the original Arm+FPGA architecture in many occasions.
Because of the powerful processing power of this chip, artificial intelligence can also be added to it. It is reported that at present, some customers have used a chip for motor control and abnormal detection at the same time. When the motor is abnormal, it can immediately alarm or stop other operations. At the same time, because it has network processing capability, it can do the function of network connection.
Wang Pengpeng said that RT has infinite possibilities, supports many operating systems, high-level languages ​​and rich tools, and the ecology is getting more and more perfect. The follow-up RT will still develop towards high performance, but at the same time, it will focus on horizontal development. For different applications, there will be products such as wearable devices that are more inclined to industrial applications or lower power consumption. "In the future, we will further enrich our product portfolio including MCUs, crossover processors, and application processors, and hope to create more application cases together with users." Jin Yujie concluded.
The Links:   CLAA150XP01PQ   LJ64ZU35