eSIM welcomes development opportunities, Infineon's one-stop eSIM solution solves cellular IoT connectivity challenges
Driven by the new infrastructure policy, the construction of 5G networks will be accelerated, and the combination of new technologies such as artificial intelligence will further accelerate the implementation of the Internet of Things. At present, IoT devices and the "cloud" are mainly connected through short-range wireless technologies such as WiFi and Bluetooth (near-field communication) and cellular networks (wide-area network communication). Near field communication has great limitations in outdoor application scenarios, and is more suitable for cellular IoT in long-distance, large-scale, public open areas. web technology. According to Ericsson, by 2022, 70% of wide-area IoT devices will use cellular technology.
In the era of 2G, 3G and 4G, the connection between the device and the network is through the SIM card. The SIM card is usually provided by a mobile network operator, and can perform secure authentication for network access devices, thereby allowing users to obtain mobile communication services. At present, a detachable SIM card is still commonly used, such as the smallest nano-SIM card. In contrast, an embedded SIM card (eSIM) is soldered directly into the device and cannot be removed. The eSIM uses Remote SIM Provisioning (RSP) technology to securely change Mobile Network Operator (MNO) over the air (OTA).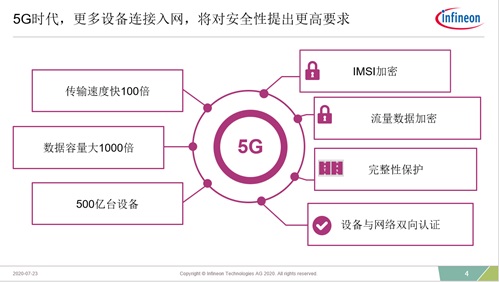 Before 5G, data can be directly transmitted to the core network, which may be hijacked by hackers during this transmission process, but the 5G network encrypts the IMSI, which has more security, integrity protection, and two-way authentication between the device and the network.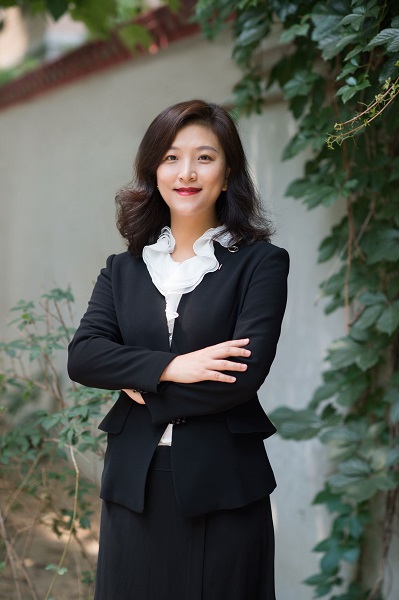 Liu Tong, Regional Marketing Manager, IoT Security Product Line, Greater China, Infineon Technologies Security Interconnected Systems Division
Liu Tong, Regional Marketing Manager of the IoT Security Product Line, Greater China, Infineon Technologies Security Interconnect Systems Division, pointed out: "In the 5G era, eSIM is more suitable for IoT cellular connectivity and is a solution that may replace traditional SIM cards in the long run. ."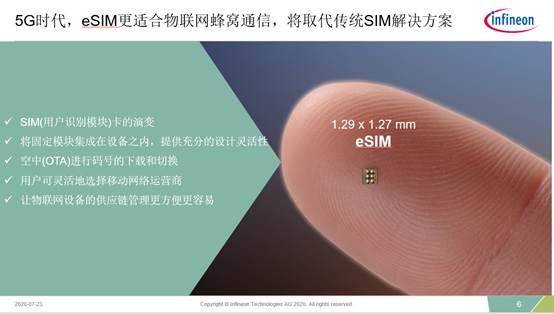 From 2FF to 4FF, the size of the SIM card is getting smaller and smaller, and the eSIM is a further evolution of the traditional SIM card. The current smallest eSIM package size is about 1.29mm × 1.27mm. More importantly, the eSIM resides within the device in the physical form of a solid module, providing full design flexibility. The eSIM can also download and switch operators' flexible numbers through OTA, so that users can more flexibly choose the package and operator network they want. Based on this flexibility, it can also make the supply chain management of IoT devices more convenient and easier.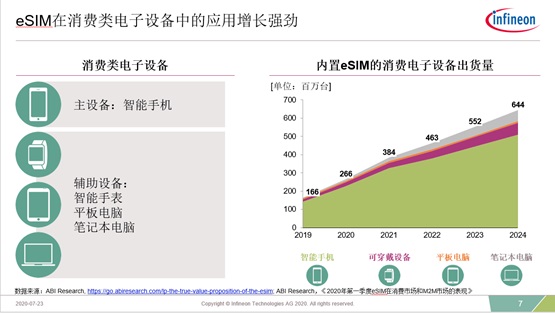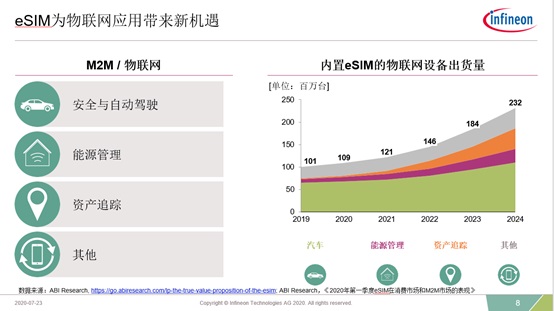 At present, consumer electronics, machine-to-machine (M2M) communication, and the Internet of Things (IoT) will be the three main application scenarios of SIM. ABI Research predicts that in 2024, more than 600 million consumer electronics products with built-in eSIM will be shipped, of which about 500 million smartphones will have eSIM installed. In terms of IoT applications, ABI Research predicts that the shipment of IoT devices with built-in eSIM will be about 232 million in 2024, of which more than 100 million will be used in cars.
China's three major operators have invested in and deployed M2M and consumer-grade RSP platforms a few years ago, and the construction of IoT and consumer-grade platforms has now been completed. Among them, the Internet of Vehicles is the key layout direction of the three major operators; at the same time, consumer products (such as smart watches and other products) are also making efforts. Taking China Unicom as an example, open the mobile phone business hall app of China Unicom, and you can see the "eSIM area". There are 9 smart wearable products on sale. In terms of norm formulation, the TAF under the CAICT is also formulating relevant domestic normative standards.
Liu Tong said that eSIM is the preferred solution for connecting IoT devices to the Internet through cellular networks. As for consumer mobile devices, eSIM cards are also expected to replace removable SIM cards in the long run. Despite this, eSIM applications have not been implemented on a large scale. At present, the biggest problem is that the ecosystem is relatively complex:
First, the investment for operators is very large, including platform construction, system transformation, etc. At present, there are nearly 1,000 operators around the world, and less than 200 eSIMs have been launched;
Second, the test before the product is more complicated than the traditional SIM, and it will be divided into several stages: hardware board, software debugging, docking with the platform, etc. The product testing plan before mass production and the docking plan of the ecosystem need to be very important. good fit;
Third, most end customers are still new to eSIM products and do not fully understand the entire ecosystem, so there are often unexpected problems that may affect product mass production plans.
In this regard, Infineon has launched the OPTIGA Connect one-stop solution. Ease of use (easy to integration) is the biggest advantage of this solution. The IoT solution also provides an initial number.
Infineon's one-stop eSIM solution can achieve hardware and software package, plug and play. There are two product forms: OC1110 is for consumer Electronic devices, specifically for mobile phones, watches and other consumer devices; OC2321 is for IoT devices.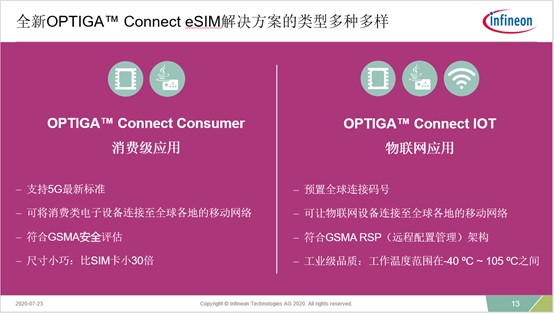 GSMA does not require pre-installed initial code number for the application of eSIM consumer products, this solution provides a very powerful hardware and software solution. The software can support the latest 5G specifications, and can support SA and NSA. At the same time, this solution is a product that fully complies with the latest GSMA standards, which can connect consumer electronic products to mobile networks around the world, and at the same time complies with GSMA's security assessment (CC EAL4+ or above).
In IoT applications, in addition to hardware and software, there is also a preset initial code number that can support initial connections in more than 200 countries and regions around the world, allowing IoT devices to connect to mobile networks around the world. It is also in line with GSMA's RSP remote configuration management platform architecture. It is of industrial-grade quality, with a working temperature of -40~105°C and a service life of more than 10 years.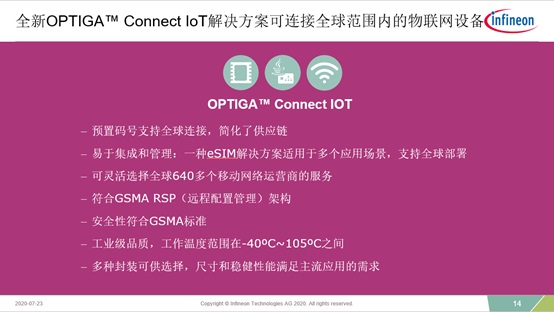 The OPTIGA Connect IoT solution comes preconfigured with code numbers that support global connectivity, which can greatly simplify the supply chain. It can support more than 640 mobile operator networks, and the security is also GSMA compliant. At the same time, a variety of packages can be provided. At present, the mainstream package on IoT devices is 5mm × 6mm, and the size and robustness are very consistent with mainstream application requirements.
In the first two years, Infineon has cooperated with Tata Communications, one of the largest operators in India. Tata Communications has cooperation agreements with operators in many countries and can support all equipment requirements. The OPTIGA Connect IoT solution is pre-configured with the initial module of Tata Communications, which can provide numbering resources in more than 200 countries and regions, so it can solve the pain points of customers as much as possible, help customers get online as soon as possible, and help export overseas equipment. The problem of domestic production.
When it comes to SIM and eSIM, will there be a situation where one side "replaces"? Liu Tong said: "In the next 5-10 years, SIM and eSIM may still coexist. With the development of technology, more and more IoT devices have very high requirements for miniaturization and networking. Even the requirements of waterproof, dustproof and shockproof, and eSIM can play a very important role in this regard. In some scenarios, there may be a 'replacement' situation."
Today, China's 5G and IoT development is in a leading position in the world, and Infineon is very optimistic about the market development prospects of eSIM in China. Liu Tong said that Infineon will actively participate in relevant activities in the industry, cooperate with all parties in the industry to jointly promote the application of eSIM in related fields, and give full play to the characteristics of high quality, high reliability and high ease of use of Infineon products. Contribute as much as possible.
The Links:   NL10276BC13-01C   CM150DC1-24NF