Royole wins authoritative academic recognition: ULT-NSSP technology will become the mainstream technology in the display field
In March of this year, Royole released the third-generation Cicada Wing fully flexible Display, and caused an uproar in the industry with its amazing indicators of "withstanding more than 200,000 bending times and a minimum bending radius of 1 mm". In fact, as early as 2014, Royole released the first flexible display with a thickness of only 0.01 mm; today's third-generation products not only support bending and parking at any angle of 0-180°, but also overcome "creases" , film rupture, display failure" three technical problems, and achieved stable mass production. Royole can achieve a number of performance breakthroughs in fully flexible screens, and its self-developed ultra-low temperature non-silicon process integration technology (ULT-NSSP) has played a key role.
With innovative technology and excellent products, Dr. Liu Zihong, the founder, chairman and CEO of Royole, was recently invited to give an opening speech at the world's top laser and optoelectronics industry academic event – International Laser and Optoelectronics Annual Conference (CLEO). , CLEO's previous opening speakers have mainly invited scientists who have won the Nobel Prize. The opening speaker of the last flexible display technology related theme was Alan Heeger, the Nobel Prize winner in chemistry in 2000. This is the first time CLEO has invited Chinese companies since its establishment nearly 40 years ago. home for an opening speech. CLEO stated in the invitation letter that Royole is the first company in the industry to launch consumer-grade flexible screen products and is the pioneer of global consumer-grade flexible screens. Therefore, we specially invite Dr. Zihong Liu as the opening speaker of this CLEO Summit.
In his speech, Dr. Liu Zihong shared Royole's technical achievements in the field of fully flexible displays, expounded the revolutionary significance of ULT-NSSP technology, and its position in the future fully flexible display market.
Innovation in material system and process technology
The ULT-NSSP technology uses a completely different material system and process technology. There are nearly a hundred kinds of micro-nano materials in the fully flexible screen. If only one of the materials is changed, the transition from glass to full flexibility cannot be achieved, and one material is changed. Many other materials need to be adjusted accordingly. For this reason, Royole has made bold innovations in the simulation model and designed a set of intelligent mechanical simulation models. Its working principle is that firstly, the mechanical parameter database of the material is formed, including all parameters of different material layers, and then the physical property model algorithm of the material is developed, and the experiments are compared and verified, and the parameters are corrected, so as to achieve rapid mass production, and even on demand. custom made.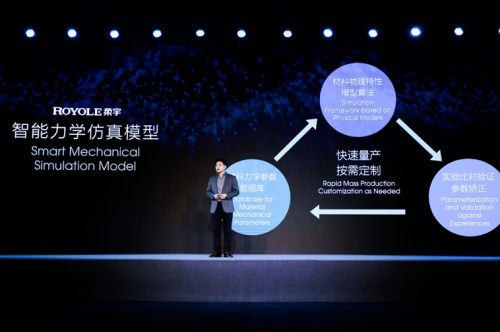 Liu Zihong explained, "In order to improve the user experience, we specially screen the elements to find out the elements that affect the user experience, such as: display failure, crease, flatness, fracture, and film breakage, etc., and then classify them through different classifications. These factors are refined, selected in a material science way, and the refined materials are simulated in an intelligent mechanical model. In this way, we quickly find the best stacking parameters and the best material combination. "
ULT-NSSP technology is not only a material update, but also a very complex technical system. Changes have also been made in the manufacturing process and device structure design of the fully flexible screen. In addition, the process temperature of ULT-NSSP technology is greatly reduced, and the low temperature process production conditions allow a wider selection of materials and higher controllability, similar to buildings that are more durable when the foundation is more stable; ULT-NSSP technology uses Non-silicon process, the production process is greatly simplified, and expensive processes and equipment such as laser annealing and ion implantation are not required, which greatly reduces equipment investment costs.
Liu Zihong emphasized, "ULT-NSSP is a brand-new technical direction. From material system, process system to circuit design, it is very different from low-temperature polysilicon technology. According to the current public data, the screen replacement price of most brands is between 4,000 and 6,000 yuan. The price of Royole FlexPai screen replacement is only 2499 yuan, the lowest in the industry. ULT-NSSP greatly reduces the cost of full flexible screens and promotes its large-scale commercial use."
ULT-NSSP technology: will be one of the mainstream technologies in the display field
As we all know, the display industry has experienced three main stages from CRT picture tube, LCD liquid crystal display, to OLED fixed curved screen, and then to foldable OLED full flexible screen. OLED is divided into flexible and rigid in terms of product form, but the market has always mistakenly classified fixed curved screens and fully flexible screens that can be folded repeatedly. In fact, the two have the most intuitive difference. The screen can be rolled in the user's hand. The deformation is a fully flexible screen, and it is a fixed curved screen or a rigid flat screen that cannot be bent and deformed.
At present, most panel manufacturers in the OLED field use low temperature polysilicon technology (LTPS), which is widely used in the traditional LCD liquid crystal display and fixed curved OLED screen industries. LTPS technology can be said to have both advantages and disadvantages. Its advantages are that the technology and supply chain are relatively mature, and it can be quickly put into production when adopted. Samsung, LG, and BOE have all adopted this technology, but the shortcomings of LTPS technology are also obvious. Its manufacturing process is based on silicon. Materials and technological processes are complex, the required temperature must reach more than 450 degrees, and the investment cost of a single production line equipment is as high as tens of billions, which leads to the high price of flexible screens, which is unbearable for the terminal market and hinders large-scale applications.
In contrast, ULT-NSSP technology uses a more streamlined process and extremely low temperature to find a balance between reliability, high yield, and low investment in fully flexible screen bending. In order to achieve the indicators set by the screen, Royole has also independently developed driver chips and display circuits to better match the material devices and process systems in the panel.
Regarding the market positioning of ULT-NSSP in the future, Liu Zihong believes, "At present, the fully flexible technology is still in the sprint stage, and ULT-NSSP technology is becoming a strong competitor of LTPS technology, with obvious advantages in process technology, raw materials, yield and cost. .In the long run, ULT-NSSP technology is more competitive and cost-effective, and can better meet users' needs for full flexible screens. With the growth of the market and the improvement of technology popularity, ULT-NSSP will definitely become mainstream One of the technologies."
Innovation is the DNA of Royole
In 2012, when Royole was founded, fully flexible display was not yet known to the public. The global industry generally believed that fully flexible display was only an academic concept, far from being mature enough to be industrialized and mass-produced, but at that time, Royole Technology It firmly entered the market with a unique screen and sensing technology route, and became the pioneer of the global OLED full flexible screen field. In 2014, when the first 0.01 mm fully flexible display screen was launched, it began to attract the attention of the industry, and let the display market see the feasibility and broad market prospects of the fully flexible screen industry.
In 2015, Royole established a mass production line for fully flexible sensors in Shenzhen, and the first mass production line for fully flexible screens was constructed in two phases. The third-generation Cicada Wing fully flexible screen was released and entered the mass production stage. The main building of the second-phase production line has been completed and will be gradually put into mass production in the future. If calculated based on the current mass production of about 8-inch fully flexible screens, the production capacity of the first phase is about 2.8 million pieces/year, and the production capacity of the first and second phases is about 8.8 million pieces/year.
In 2018, Royole's world's first fully flexible mass production line has achieved mass production and launch of the second-generation Cicada Wing fully flexible screen. This year, the third-generation Cicada Wing fully flexible screen has entered mass production and has begun to support partners from all walks of life. Royole has cooperated with 500 global enterprise customers in different fields, including internationally renowned brands such as Louis Vuitton, Airbus, China Mobile, Li Ning, GAC, PSA, Toyota, Cleer, Legrand Many innovative application products have been launched one after another, which has greatly expanded the application scope of fully flexible screens.
After years of technology accumulation, Royole has achieved a series of innovations including flexible sensors. Currently, it has more than 3,000 independent intellectual property rights, and has established 4 R&D bases and more than 30 laboratories around the world. 60% of the staff are engaged in research and development. Dr. Liu Zihong said in an interview, "Innovation has always been the DNA of Royole."
The Links:   LT084AC37400   TPS2541ARTET   SHARP-LCD