Samsung develops high-performance PCIe 5.0 solid-state drives for enterprise servers
Today, Samsung announced that it has developed the PM1743 solid-state drive for enterprise servers. The PM1743 solid state drive has the latest PCIe 5.0 interface and Samsung's advanced 6th generation V-NAND flash memory technology.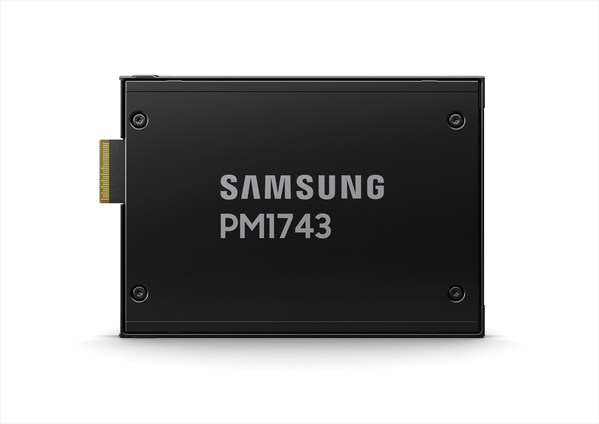 Samsung semiconductor PCIe Gen5 SSD PM1743
Yong Ho Song, Samsung Electronics' senior vice president and head of the memory controller development team, said: "Samsung has continued to provide SATA, SAS and PCIe-based solid-state drives for more than ten years. Recognized by advanced server customers including financial institutions. The launch of PCIe 5.0 solid-state drives and ongoing product development based on PCIe 6.0 will further consolidate Samsung's technological position in the enterprise server market."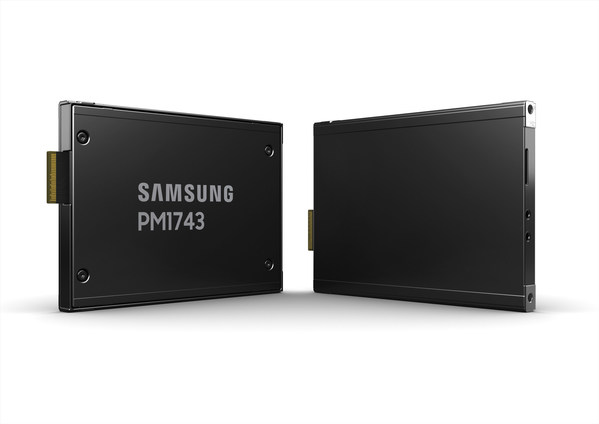 Samsung Semiconductor PCIe Gen5 SSD PM1743
PCIe 5.0 can provide a bandwidth of 32GT (Gigabit transfer) per second, which is twice that of PCIe 4.0. PM1743 uses a controller designed specifically for the latest PCIe standard, which can provide excellent read and write speeds to meet the performance requirements of the rapid development of data centers.
Samsung PM1743 has a sequential read speed of up to 13000MB/s and a random read speed of 2500K input/output operations (IOPS) per second. Compared with the previous PCIe 4.0-based products, the speed is increased by 1.7 times and 1.9 times, respectively. In addition, the writing speed has also been significantly improved. The continuous writing speed is 6600MB/s, and the random writing speed is 250K IOPS, which is an increase of 1.7 times and 1.9 times respectively. Significantly improved data transmission performance allows enterprise server manufacturers using PM1743 to enjoy a better performance experience than ever.
In addition, this new solid-state drive has higher energy efficiency, up to 608MB/s per watt, which is about 30% higher than the previous generation. This is expected to significantly reduce the operating costs of servers and data centers, while also helping to reduce the carbon footprint.
Samsung PM1743 has a variety of capacities from 1.92TB to 15.36TB, and can provide a traditional 2.5-inch form factor, as well as a 3-inch EDSFF, an increasingly popular solid-state drive form factor designed for the new generation of enterprise servers and data centers. Compared with the use of 15 mm 2.5 inches, customers who use 7.5 mm EDSFF solid state drives can double the system storage density. Coupled with excellent signal integrity and thermal efficiency, EDSFF is the ideal choice for most PCIe 5.0 enterprise solutions.
In addition, Samsung PM1743 is a PCIe 5.0 solid state drive that supports dual ports, even if one port fails to connect, it can ensure the server's operational stability and high availability.
At present, Samsung is providing samples of PM1743 to global chipset and server manufacturers for subsequent joint system development. Samsung hopes to start mass production of PM1743 in March 2022, and continue to cooperate with global chipset and system manufacturers to build a strong ecosystem for the new PCIe 5.0.
*The product pictures and models, data, functions, performance, specifications, etc. in this article are for reference only. Samsung may improve the above content. For specific information, please refer to the actual product, product manual or Samsung's official website (www.samsung.com) /cn). Unless otherwise specified, the data involved in this website are the results of Samsung's internal testing, and the comparisons involved are all compared with Samsung products.
Source: PR Newswire
The Links:   LJ640U327   6MBI100FC-060