Continental Semiconductor Equipment Company launched the "first" attack, and AIBT was sued by Keystone for breach of contract
On December 29, 2020, Shanghai Keystone semiconductor Co., Ltd. (hereinafter referred to as "KINGSTONE" or "KINGSTONE") filed a complaint with Hong Kong for the alleged breach of contract by Advanced Ion Beam Technology, Inc. (hereinafter referred to as "AIBT"). The High Court of the Administrative Region filed a lawsuit. At present, the Hong Kong High Court has issued a court summons (High-court Civil Action number: HCA2181/2020) to AIBT. It is reported that this lawsuit is the first mainland semiconductor equipment company to file a cross-border legal rights protection lawsuit against a peer company in recent years.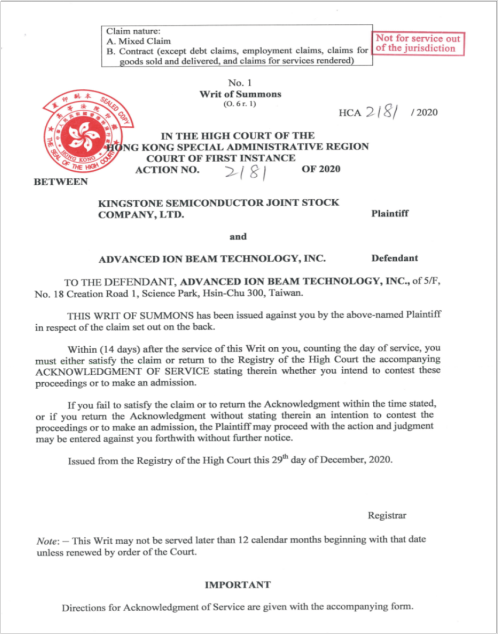 Image source: Hong Kong High Court's subpoena to AIBT
According to the agreement previously signed by the two parties, the plaintiff KINGSTONE has the technology and products of the original design and development of the integrated circuit chip ion implanter beyond the 7nm technology. Defendant AIBT established its leadership in ion implantation technology by purchasing an ion implantation platform originally designed and produced by plaintiff KINGSTONE in combination with its existing ion beam system (also developed by KINGSTONE's founding team members). The agreement stipulated that AIBT must and insurmountable purchase related products from KINGSTONE within 3 years, and because AIBT violated the contract and directly overstepped KINGSTONE to sign contracts with upstream parts suppliers, KINGSTONE actively communicated with AIBT on this breach of contract to no avail. File a formal lawsuit against it.
Image source: Hong Kong High Court's subpoena to AIBT
Relevant persons said that if AIBT goes beyond KINGSTONE to directly purchase upstream components, assemble and sell related products, it will inevitably infringe KINGSTONE's intellectual property rights. Ion implantation equipment is a key part of the chip manufacturing process. Only by breaking the import dependence of core equipment can we finally realize the independent manufacturing of "Chinese chips". In the face of many constraints on domestic semiconductor equipment, KINGSTONE has continued to make efforts to tackle difficulties. Now it has an original semiconductor ion implanter technology that exceeds 7nm chips, and has achieved a major breakthrough in the commercialization of domestic equipment in the field of semiconductor equipment in China. With the gradual realization of mid-to-high-end localization of semiconductor core equipment, the field of domestic semiconductor equipment has also ushered in a dominant voice. While accelerating the process of industrial localization, domestic enterprises will also significantly increase their awareness of technology layout and protection at home and abroad. This will also lead the industry to seize the commanding heights of development and win the first opportunity in the new round of international competition.
The Links:   TX13D06VM5BAA   LM150X05-C3