Epidemic hits iPhone production line Foxconn advises employees to take voluntary leave to leave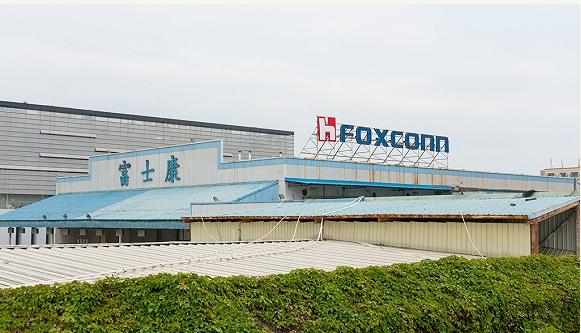 Image source: IC photo
At the end of April, there were rumors that Foxconn's Shenzhen factory asked some employees to take a four-month vacation, starting in May and ending on September 1.
In this regard, its parent company Hon Hai Precision recently responded by saying that all factories in mainland China are currently operating normally, and there is no such thing as large-scale layoffs and vacations.
At present, some employees do still maintain normal work. A worker from Foxconn in Shenzhen told Jiemian News that he did not receive a holiday notice, the production line was producing normally, and he had to work overtime on May 1st. His GIS business group is responsible for the assembly of touch displays such as iPads.
However, furloughed employees do exist. Jiemian News contacted another worker surnamed Zhang from the ICGE business group in Shenzhen. His business group is mainly responsible for the screen assembly of Apple mobile phones. He said that some departments that produce iPhones have adopted a voluntary leave system, during which they can receive 30% of their basic salary. If calculated according to the basic salary of 2,300 yuan, workers can receive 690 yuan per month during the vacation.
He also mentioned that another business group, IDPBG, which is also related to iPhones, has workers who "have been on vacation for two or three months." The worker said he was not clear about the specific vacation time.
If they choose not to take vacations, workers can only get a basic salary of more than 2,000 yuan. Because of the decrease in orders, employees will no longer work overtime. "Products can't go out, and foreign components can't come in," said the worker.
Shenzhen and Zhengzhou Foxconn made great efforts to recruit people when they resumed work in early February, offering incentives of more than 7,000 yuan to recruit new employees. Since April, or affected by the aggravation of foreign epidemics, Foxconn has suspended recruitment and even began to persuade employees to leave in disguise. According to news from the Zhengzhou Foxconn official account "Gangcheng Gang", Foxconn encouraged employees of some business groups to leave early.
Source: "Gangcheng Gang" public account
In simple terms, if a worker leaves early, wages will be settled on a daily basis. In addition, the subsidy that was originally required to work for three months will also be paid on a daily basis. This move is mainly aimed at workers recruited in the early stages of resumption of work.
Based on the above situation, Foxconn's current policies for employees can be summed up as three: one is to take long vacations voluntarily and stay on the job with a reduced salary; the other is to stay in the factory to work, but only receive the basic salary; and the third is to leave voluntarily.
Compared with other factories' measures of forced dismissal or closure, Foxconn's policy is still "conscience", leaving room for workers.
In fact, factories in the mobile phone industry chain are often affected by various factors, and there are also low and peak seasons for recruitment. For example, in the second half of the year, demand and orders are stronger than in the first half of the year, and more people are recruited. In the past, when recruiting workers, the factory could still predict the manpower demand, but this year there are too many variables and it is difficult to predict. A recruitment agency analyzed Jiemian News: "This year's abnormal employment is a normal phenomenon."
As for Hon Hai Precision's claim that "there are no large-scale layoffs and furloughs," the truth is that factories such as Foxconn generally employ a large number of dispatch workers. Dispatched workers are employees who are arranged by labor agencies to work in factories. The intermediary company is responsible for handling wages, benefits, and legal issues with employees. Legally, dispatch workers are not Foxconn employees. Therefore, Hon Hai Precision's statement is indeed true, but the large number of dispatch workers may not be counted.
In terms of demand, Apple issued an official statement in March. Affected by the epidemic, the company will close all Apple Store retail stores around the world outside of Greater China by March 27, and employees will work from home. The store closures are said to continue until May. This will naturally lead to a shock to Apple's sales.
Foxconn's performance has also been hit. According to the first quarterly report of the A-share boss company Fulian Industrial, the company's net profit attributable to the company in the first quarter fell by 35% year-on-year. Its Taiwan-listed parent company, Hon Hai Precision, saw total revenue in the first quarter drop 12 percent year-on-year. Hon Hai Precision Industry said the record low revenue in the first quarter was mainly due to the impact of the new crown epidemic, which resulted in the inability of mainland factories to operate in February.
The epidemic is still continuing, and consumer demand is also falling further against the backdrop of the global economic downturn. And whether Foxconn, which can provide employment for nearly 200,000 people in one park in Shenzhen alone, can resume normal operation in the next quarter will involve the fate of countless workers.
The Links:   LTD104KA3S   LM018HT