Intel CEO Pat Kissinger: Semiconductors are everywhere
"More than a decade after Marc Andreessen declared that "software is eating the world", we have entered an era of soft and hard combined. In this era, software and hardware will jointly lead the operation of human society. The world is becoming digital as technology becomes increasingly central to every aspect of human life.
"
Author: Pat Kissinger
Intel will continue to lead the "Golden Age of Semiconductors" and contribute to the creation of a global connected industry

Executive summary:
• With the growing demand for massive computing power, we are entering a new golden age of semiconductors.
• Semiconductors are an extremely high-demand field, and Intel is one of the few companies that can supply cutting-edge semiconductors.
• The world's reliance on semiconductors requires a more balanced and resilient supply chain, and Intel is doing all it can to help address this.
• An open ecosystem can unleash innovation capabilities and allow computing to develop in a crowd-creating environment. Open ecosystems will ultimately win over closed, proprietary solutions.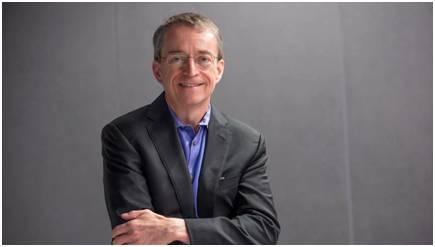 Author: Pat Kissinger
CEO of Intel Corporation
Semiconductors are everywhere

More than a decade after Marc Andreessen declared that "software is eating the world", we have entered an era of soft and hard combined. In this era, software and hardware will jointly lead the operation of human society. The world is becoming digital as technology becomes increasingly central to every aspect of human life.
The rapid development of the cloud, data networks and smartphones has transformed industries around the world. The development of all these technologies is based on the large-scale development and cost-effective deployment of semiconductor technology.
The outbreak of the new crown pneumonia epidemic has ignited the flames of this digital transformation, the original timelines and plans have been destroyed, and the demand has forced digital products to innovate. Semiconductors provide society with the ability to work remotely, stay connected with friends and family, provide virtual education and enhance healthcare. They allow scientific research to be fast-tracked, including mapping the intricate molecular map of the novel coronavirus.
Semiconductors are advancing at a rapid pace, and key industries including education, finance, manufacturing, medicine, transportation, and defense are being transformed by the power of semiconductors. All of this has led to unprecedented demand for chips, which is further exacerbated by disruptions to global supply chains.
We are at the cusp of a digital renaissance

Clearly, semiconductors are the backbone of the global economy and critical to sustaining our lives in the "new normal". What does this mean for the semiconductor industry?
According to data from Gartner, the market size of semiconductors will exceed US$500 billion for the first time in 2021, and current semiconductor technology is driving the transformation of almost all industries. With the insatiable demand for computing power, the semiconductor market is expected to double to $1 trillion by the end of the century. We believe that revenue will grow faster in the cutting-edge segment, which is the most advanced semiconductor process nodes, and that's where I see the greatest demand. In fact, I see the revenue growth of laggard nodes is only one-fifth of that of advanced nodes.
As every company becomes a technology company, we are facing a once-in-a-lifetime opportunity for Intel and the semiconductor industry to accelerate transformation. In an environment of great change, I am confident that Intel can become a world-class semiconductor company and usher in a new era of innovation and technological leadership.
Open the era of super Moore's Law

Advanced semiconductors are enabling new levels of human achievement, thanks to what I call the "four superpowers", which in turn have sparked an explosion in semiconductor demand.
1. Ubiquitous computing allows people to interact with ever-changing technologies everywhere.
2. From the cloud to the edge infrastructure provides a scalable solution to process massive amounts of data while meeting application demands for low latency and high bandwidth.
3. Ubiquitous connections allow technology to connect with everyone and everything.
4. AI brings intelligence to all of this and will continue to infuse all forms of computing with standards-based, developer-friendly, scalable tools and techniques.
Since Intel's founding, we have relentlessly advanced Moore's Law, and thrived on the semiconductor creation and innovation it describes. Moore's Law underpinned the greatest period of innovation and wealth creation in human history, and we all benefited from it.
These "superpowers" are driving the exponential growth in computing demand around the world, and that demand is inversely proportional to size and power. In short, it's Moore's Law.
The industry currently requires solutions with lower latency, higher density, higher energy efficiency, and Z-scale computing (1Z=1021, one trillion trillion). This will require significant R&D investments in completely new transistor designs, extreme ultraviolet lithography (EUV) tools, advanced packaging and precision manufacturing to enter the Angstrom era of semiconductors. As the guardian of Moore's Law, we expect to rapidly advance the development curve of Moore's Law.
I am proud of the progress the Intel team has made in delivering the next generation of semiconductor technology. Our vast creation and rich solutions in materials, transistor structures and circuit topologies allow us to continue to deliver performance, power and cost requirements for the large-scale development of multiple generations of semiconductors.
In addition to this, advanced packaging technologies like Intel's EMIB, Foveros, etc. have ushered in a new era of chip manufacturing, expanding from the ability to design on a single chip to the ability to mix and match in flexible system-in-packages.
A Few, Including Intel, Pushing the Frontiers

The need for the entire industry to transition from a backward node to an advanced node still exists, and in the case of the automotive industry, the industry is currently undergoing a profound and significant transformation. As cars become smarter, more efficient, and safer than ever, thanks to semiconductors, the auto industry must move away from its extreme reliance on lagging nodes and move to more modern technologies that address supply chains by expanding capacity. problem. We expect semiconductor material in high-end vehicles to grow fivefold by the end of the century, and revenue from the automotive semiconductor industry will double to $115 billion. We are seeing similar trends in healthcare, retail, banking, travel and other sectors, where the power of digital is driving new changes and disruptions.
Applications across all industries, such as graphics and gaming, networking and data processing, require enhanced performance, better efficiency, and lower power, and these advancements require innovation in cutting-edge technology. In a future within reach, we can provide every person on the planet petaflops of computing power and petabytes of data in under 1 millisecond.
As we enter the second half of this decade, the number of advanced lithography wafers produced each year is expected to double and continue to grow. Over this decade, more than 40% of semiconductor revenue will come from these advanced nodes. Intel is one of the very few companies that can make the leap to extreme ultraviolet lithography (EUV) technology and deliver at successive advanced nodes.
Productivity is the key to success or failure

The unprecedented industry-wide shortage of chips underscores the need for the ability to manufacture more semiconductors and a more diverse, secure and balanced supply chain. When our industry is able to deliver products globally, we reduce the risk of additional semiconductor supply chain failures and increase the flexibility of the global technology infrastructure.
While the industry has been working tirelessly to ensure there is sufficient semiconductor wafer capacity to meet anticipated demand, we expect supply constraints to persist through at least 2023, with older technology nodes and fab equipment supplies in the near term. more nervous. In the second half of the decade, as Intel and the rest of the industry begin to build more fabs, the tight supply situation will improve and be able to meet the expected doubling of demand and the need to migrate to more modern nodes.
But it's not just wafers that are being constrained, the digital renaissance has put enormous pressure on the global supply chain, whether it's Wi-Fi modules, substrates, panels or any other critical component. The entire supply ecosystem needs to be strengthened to ensure that there are no individual bottlenecks restricting industry development. That's why Intel is driving top-down collaboration across the supply chain, not just with our suppliers, but with our suppliers' suppliers and Intel's customers.
Going forward, our investments in leading capacity in the U.S. and Europe as part of Intel's IDM 2.0 strategy target the next wave of innovation driven by four super technology forces. Last month, Intel announced an investment of more than $20 billion to build two new cutting-edge chip factories in Ohio, the new heartland of Silicon Valley in the United States. This investment opens up the entire region to help ramp up production to meet growing demand for advanced semiconductors that power Intel's new generation of innovative products. This will help build a more resilient supply chain while ensuring stable access to semiconductors for years to come.
Only by working together can we start a new era of innovation

More than half a century has passed since semiconductors began to be shipped commercially. Today, semiconductors are the foundation of many innovations around the world, and the market for semiconductor technology is expected to grow to $650 billion this year. However, we believe that the "golden age of semiconductors" has only just begun. As Intel was founded, we will continue to lead the next era of semiconductors and contribute to the creation of a globally connected industry.
Intel will deliver on our promises through an open ecosystem. I believe this will unleash more power than any single business. Technology itself is not good or evil. Only by working side by side can we ensure that technology is essentially neutral and ultimately becomes a force for good. Intel is doubling down on its deep foundation in open platforms to enable innovation and accelerate the future we all share.
Intel has the depth and breadth of smart silicon, platforms, software, architecture, design, manufacturing and scale, and our customers need to capitalize on these opportunities and drive their next generation of innovation. We are committed to continuing to provide the technology foundation the industry needs to drive the digital renaissance.
Intel is moving fast, and everything we do is driven by our purpose: to create technology that changes the world for everyone on the planet.
Pat Kissinger is the CEO of Intel Corporation and serves on the board of directors.
The Links:   RM500UZ-2H   LM641836