Third in the world, display driver chip packaging and testing plant Xinhuicheng Microelectronics breaks through the science and technology innovation board
On November 5, the Shanghai Stock Exchange formally accepted Hefei Xinhuicheng Microelectronics Co., Ltd. (hereinafter referred to as "Xinhuicheng Microelectronics") science and technology innovation board application.
According to the prospectus (application draft), Xinhuicheng Microelectronics plans to raise 1.564 billion yuan this time, which will be mainly used for 12-inch Display driver chip packaging and testing expansion projects, R&D center construction projects, and supplementary working capital. Among them, the 12-inch display driver chip packaging and testing expansion project is the key project of this fundraising.

△Source: Screenshot of Shanghai Stock Exchange's announcement
According to reports, the total investment of the project is 974 million yuan. The construction content includes the introduction of testing machines, probe stations, wafer automatic optical inspection machines, lithography machines, internal pin bonding machines, physical meteorological deposition equipment (sputtering machines), and grinding machines. Advanced production equipment such as machines, die picking machines, and wafer dicing machines. At the same time, a clean room was built and renovated to solve the problem of production sites and further increase existing production capacity.
After the project is put into production, Xinhuicheng Microelectronics' 12-inch wafer gold bump manufacturing, wafer testing, flip-chip packaging and thin-film flip-chip packaging will greatly increase its production capacity.
2020 chip package shipments of 828 million units
According to data, Xinhuicheng Microelectronics was established in 2011. It is a high-end advanced packaging and testing service provider for integrated circuits. It currently focuses on the field of display driver chips. It is the first in China to have gold bump manufacturing capabilities and the first to introduce 12-inch wafer gold One of the advanced packaging and testing companies for the bump production line and mass production of display driver chips. The products are widely used in various terminal products such as smart phones, smart wearables, high-definition TVs, notebook computers, and tablet computers.
In terms of financial reports, data show that in recent years, Xinhuicheng Microelectronics' performance has fluctuated greatly. From 2018 to 2020, it achieved revenue of 286 million yuan, 394 million yuan, and 619 million yuan, respectively, and achieved net profits of -107 million yuan,- 164 million yuan, and -4005,000 yuan.
In the first half of this year, Xinhuicheng Microelectronics successfully turned losses into profits, with revenue and net profit of 359 million yuan and 58.817 million yuan respectively.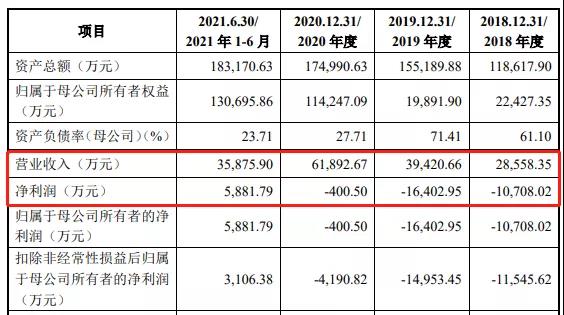 △Source: Screenshot of Shanghai Stock Exchange's announcement
It is reported that the customers of Xinhuicheng Microelectronics include world-renowned display driver chip design companies such as Novatek, Tianyu Technology, Ruiding Technology and Himax Manufacturer's panel.
In 2020, its display driver chip packaging shipments will be 828 million, ranking third in the global display driver chip packaging and testing industry and first in China.
The Links:   LQ121S1LG61   EP4CE75F23C6N   LCD-DISPLAY